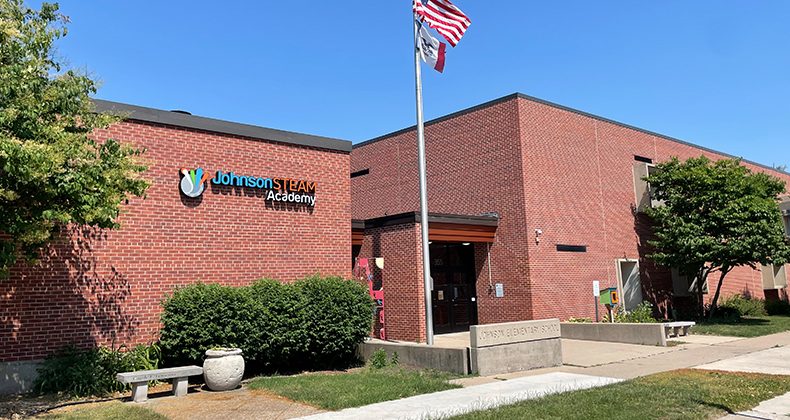 Embedding science, technology, engineering, art, and mathematics (STEAM) themes across content areas creates an engaging and innovative learning experience at Johnson STEAM Academy. Our students participate in learning experiences that positively impact their future and ignite their passion for learning. Students use creativity when they generate new ideas or thoughts, critical thinking as they develop solutions to problems, complex communication when they work collaboratively on projects, and productivity and accountability when they complete projects.
The value of 21st century skills is deeply embedded in the JSA STEAM curriculum. The JSA STEAM curriculum is vertically-aligned K-5 by content area and themes which allows for cross-graded collaboration and content integration. The content areas of math, reading, writing, engineering, science, and social studies are driven by an overarching essential question that drives the learning experiences. Four overarching themes: making connections, igniting passions, cultivating character, and achieving dreams, along with the Iowa Common Core Standards, are the foundations for learning experiences. JSA students are assessed through authentic performance-based assessments, ongoing formative assessments, as well as the CRCSD and state assessments that all elementary schools in the district participate in.
A strong sense of community at Johnson STEAM Academy helps our students, families, and teachers succeed. It is through a variety of community partnerships, family supports, a growth mindset, and innovative learning experiences that our students thrive and become the best that they can be. We follow the JSA Way.
All members of the learning community have high expectations for success and acknowledge positive behaviors. The belief that learning often happens through failure, perseverance, and the willingness to try again supports the mindset that effort is the path to mastery. It is typical to see Johnson students interacting with community partners who support their learning, growth, and development.
Johnson STEAM Academy offers many co-curricular activities to help increase student involvement within the school including an extensive before & after school STEAM enrichment program. This program utilizes Johnson facilities and staff in partnership with Iowa artists, parents, and community groups to provide free classes in visual arts, music, performing arts, dance, movement and sports, folk/domestic arts, and technology. Examples of classes include primary potters, Girls on the Run, gospel choir, JSA news team, LEGO League, and instrumental music lessons.
Our parent teacher association (PTA) hosts many activities including harvest hoopla, blues and barbecue, dances, and movie nights. Music lessons are also offered and sponsored by the PTA. Parent volunteers provide support for teachers and staff. School and community partnerships bring financial support and the opportunity for students to give back to the community through artwork and choir performances.
The before-and after-school enrichments, Jane Boyd Achievement Academy, operate from the school with Boys and Girls Club across the street at First Congregational Church. The Rites of Passage and the Academy Programs use the building to promote the rich heritage of the African American culture. Big Brothers Big Sisters provides for the emotional and social needs of area children.
We are happy to announce that Johnson STEAM Academy is one of the top 25 National Innovative Best Practice schools/districts that was selected for site visits Fall 2017 for a more in-depth study of how innovative approaches have impacted student learning. The student will identify and highlight the many ways in which public schools and districts are putting students first with unique approaches that expand and support student learning and achievement.
Johnson Elementary School opened in 1911 and was named after the 17th president Andrew Johnson. In 1971, the old building was torn down and a new facility opened. It is the proud recipient of the Iowa First in the Nation in Education Award.
---
Key contact